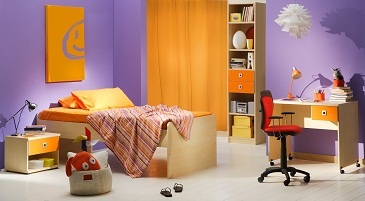 Color affects our perception and temper in various ways. The color red can make us hungry, and if an object is black we may assume that it is luxurious or mysterious. There are common associations that many people have with certain colors, and often marketers and businesses will take advantage of these associations for their benefit. For instance, a restaurant may use red in their décor to stimulate hunger. This use of color generally works because there are emotions and states of mind that come about when we see certain colors.
When choosing a color to paint a child's room, keep in mind how the color may influence your child. Certain colors may play into their strengths or encourage certain moods or behaviors. When planning an interior house painting in Austin, TX, first decide which color will suit your child best.
· Red: The color red brings excitement and energy, and is great for encouraging athletic behavior. However, red may be overwhelming for kids prone to anxiety.
· Pink: A very feminine color, the color pink can enhance empathy and create a calm space.
· Green: Mimicking nature, green can sooth the body and make you feel healthy. This color also calms the mind and reduces anxiety.
· Blue: This cool color can actually make you feel colder. Blue also calms the body and can make one feel comforted.
· Orange: Though orange stimulates alertness, this color is also very welcoming and can promote socialization and communication.
· Yellow: This color generally makes people happy. Yellow is a subtle color, and therefore not overwhelming at all, but does strengthen concentration and memory.
· Black: Though sometimes seen as the color of death or evil, the color black for a room can actually stimulate a sense of calm and creativity.
After you choose the color that will be the best for your child, contact a home painting company in Austin, TX, for a free quote on your painting project.