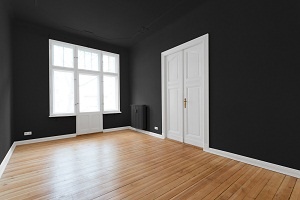 Minimalist colors are taking over! The best part about it, is that now these colors involve more than your various shades of grey. You can find residential painters in Austin, Tx, to liven and spruce up the interior rooms of your home to create a warm and inviting environment for you to come home to. Keep reading to see what the trends are for interior home colors !
Turquoise Get-Away
Turquoise paint has a way of making your home feel like a get-away or the perfect vacation spot. Why shouldn't your home feel like a get-away? Use turquoise for the whole room or as an accent wall, to brighten your space and remind yourself of amazing ocean views! We have a lot of shades to choose from in turquoise, let us help you pick the shade that fits your space.
Black: The New Neutral
This year, all black rooms are giving us much to love! Perfect for an office space or library, this sophisticated, cutting-edge, racy trend is taking many interior spaces by surprise. Black is now seen as the new neutral for interior paint colors. Many are opting for black floors, black walls or a black accent wall, an oversized black bookshelf that takes up a whole wall, black entertainment centers, and more. Add more mystery to your space by going with black. Let a professional in residential house painting Austin, Tx, help you decide how to add black to your space to bring about the feel you desire.
Bring in the Sunshine
Warm up any space with rich tones of golden yellows. Brighten up the mood and feel of the room and increase the coziness with a few strokes from your residential painters in Austin, Tx's brush. Golden yellows bring on a bright and natural feel. Go for it on an accent wall, but be careful when going for the brighter end of the scale, you don't want to overdo it. This color goes well with shades of blue and cream color tones. This is one of the colors of the year. Go for it.
If you are looking to upgrade the interior colors of your home, be sure to contact local residential painters in, Austin, Tx.